The KinkyCast is an educational tool to serve the Kinky/BDSM community, primarily in the US, but with listeners around the world. With a foundation built around enlightening newcomers to the BDSM/Kink community, the KinkyCast features lifestyle content and interviews with renowned authors and luminaries. 
The hosts: 
Woody has been in the lifestyle for 21 years and has seen it all from living in Amsterdam, Los Angeles and San Francisco. He delivers a widespread point of view based on his worldwide experiences.  On FetLife, Woody goes by the screen name of "Woodsman."
The Beast has been at it for more than 23 years with a more suburban/rural viewpoint.  The Beast brings a perspective from the eastern/southern US. The Beast may be found on Fetlife as "LdBeast."
Krissy brings a submissive, feminine prospective to the mix.  Krissy has been a judge at a Leather Fest and is well connected to the movers and shakers.
Leigh brings a poly perspective.  She has over 18 years experience in the lifestyle and brings a soft touch as she chats with friends of many years.
Dorothy is our TNG representative guiding the cast towards current issues and thing that matter for younger players.
Touchy started from the very first cast as our critical listener.  She would pre screen the cast before it was published.  She lives up to her name of being 'hands-on' and took over the editing process in July of 2015, a full time job to keep the content highly listenable.
We also have correspondents from around the country to bring flavor and perspective to the mix. 
We have Terik who is doing outreach to find new areas to discuss and Johnny Thrash in Canada, bringing a view from our great north.  Both are great contributors to making the show successful. 
The KinkyCast began in February 2014 from its home base in Nashville, Tennessee and has seen a fast rise in listenership via KinkyCast.com, iTunes, Stitcher, SoundCloud and a long list of podcast distributers worldwide.  Our show synopsis is translated into several languages for local foreign markets.
The podcast is released weekly; however, the producers of the KinkyCast, plan episodes more than a month in advance and often record segments at different times to be mixed in the future to build an episode.  We typically ready shows a week in advance of the publish date.  
The studios for the recording and editing of the KinkyCast are state-of-the-art, 100% digital mixing and editing. At last count we have 9 Apple Macs at work recording, editing, planning and providing art to keep the web site up and happy.  Our servers are located in the Boston Data Center on the backbone of the internet.  All audio is hosted by SoundCloud.  We have an excellent telephone interconnection for call-ins as well as multiple Skype feeds to push audio quality to the maximum for pickup feeds from around the country. The producers and hosts will travel to national and regional events with portable recording equipment for interviews and local interest.
The KinkyCast is community driven and as a service, we respond to community input by telephone call-in, email and a way for listeners to remain anonymous, the "Bashful" link on our web site.
Introductions are read aloud by our computerized voice personality, Max. He is gaining a following of his own and are being incorporated into the shows as cast members.
In August we started construction of the new 'Studio A'.  Months later it has become the nerve center of the KinkyCast operation with a 24 channel digital console running ProTools to route and capture every word uttered by our guest in far flung corners of the world. In December 2015 we added an enhanced archive, visually showing all the show logos.  In January 2016 we started an advertising pilot plan and in March expanded to encompass more avenues of revenue to fund travel for our all volunteer staff and keep the monthly bills paid.  In April 2016 we added a fully searchable database of over 113 shows to date.
Listen to any of our past shows by clicking on the 'archive' tab at the top of the page.  Below is a photo our original studio.  
We always love to hear from our listeners.  Contact us on our email, FetLife or Facebook. 
Woody & the Beast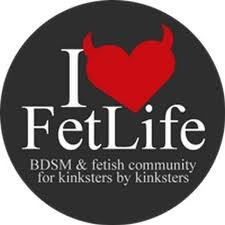 Staff:
Woody - Co-Host, Producer, Co-Editor, Operations
Beast - Co-Host, Segment Producer
NYBeast@KinkyCast.comSegment Producers:
Krissy
Leigh
Dorothy
Touchy - Chief Editor
Touchy@KinkyCast.com